Wedding planning, while exciting, can be a major source of stress–and your honeymoon is likely going to be your first real chance to enjoy some quality time with your spouse. The trip should be relaxing while also suiting your wants, needs, and style as a couple. With that said, incorporating all of your favorite things into one trip can overwhelm, or take away from your time spent simply enjoying one another's company.
When curating your honeymoon, consider your bucket list (a honeymoon is an ultimate excuse to invest in a trip you'd otherwise never splurge on), your getaway goals (lounging poolside? Days at the spa? Hiking? Indulging in local cuisine?) and the best times to visit your dream destinations. Keep in mind that while off-season travel can save you money, it can also be unpredictable. Decide whether you're the type of couple who can handle making the most out of your plans being derailed; the last thing you'd ever want is to spend the majority of your trip in inclement weather, or discover that most of a location's must-visits are only open in high season.
We've considered the world's most romantic, untapped, exciting and visually stunning destinations when crafting this list to give you all the reasons you'll need to visit, and where and when to plan your stay. Here, the ultimate honeymoons to have on your shortlist.
Greece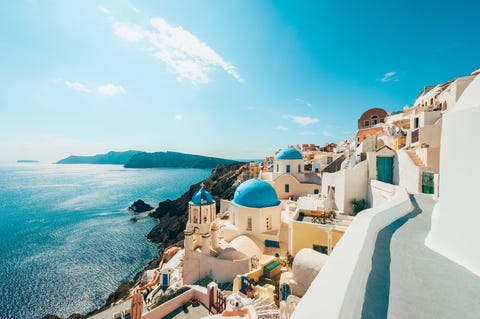 Greece's rich history, exceptional food and mesmerizing beauty make it an ideal place to set off on honeymoon, spending at least a few nights amid the postcard beauty of Santorini. Overlooking the cerulean seas and typified by white walls, this is the Greece we've all dreamt of. Post up at the Andronis, replete with private cave-like pools that overlook the island's crater bay. Greek cuisine is all about the fresh catch, so take some time to explore the town, stopping by for lunch at one of the local tavernas, before returning for an evening at Lycabettus and a table with views onto infinity.
Colombia oozes romance with a buzzy nightlife, top-shelf fresh catch, and surprisingly impressive wellness offerings. Check out Cartagena, where pastel buildings in the old city house some of Colombia's best dining options. Grab a lunch reservation at El Boliche Cebicheria—a favourite and a well-kept secret—that serves the freshest and most uniquely Colombian fish dishes in all of Cartagena.
Puglia, Italy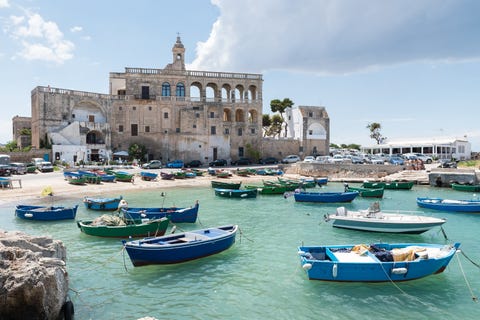 Puglia is about as close to perfection as anywhere. This Italian gem is ideal for year-round honeymoons with its charmingly quaint yet luxurious approach to life—and its peppering of some of Italy's finest beaches.
The breathtaking Borgo Egnazia luxury resort gently tucked into olive groves and scattered with bougainvillaea and jasmine, perfectly captures the elegance and mesmerizing beauty of the region. Resembling a traditional village, the resort is family-owned and operated, feet from the coastline with sweeping views of the Adriatic, and is scattered with saltwater pools and a golf course that hugs the ocean.
Zanzibar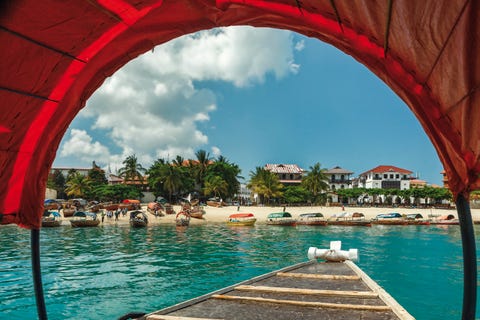 The small island set to make a big splash this year, Zanzibar has seen a raft of new openings to entice honeymooners to the Spice Isle. Nowhere though has managed quite the same pull as the new, design-conscious and eco-savvy, Zuri Zanzibar. A hotel strung together with honeymoon moments, some of the best times here are found off the silken sands of Kendwa Beach (fast garnering a reputation as one of the best in the archipelago) and out on the atoll.
Grab your partner and a snorkel as you head out to Tumbatu Island where, when the tides are right, you can be lucky enough to see green turtles gliding on by; the area is a favorite nesting spot of theirs. Then, for some time on land, the island capital of Stone Town is home to any number of quaint curiosity shops found down labyrinthine alley streets and amid bustling markets where locals hawk their wares.
The Maldives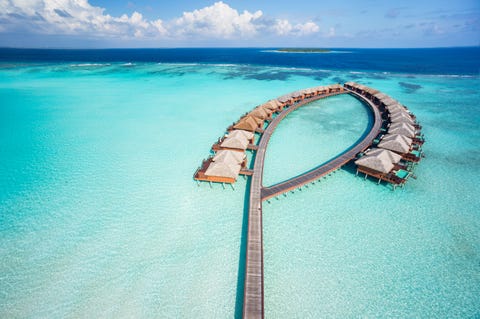 Southwest of Sri Lanka, this small nation of islands is tailor-made for ocean-obsessed couples. With snow-white sand and aquiline-blue waters, the Maldives is home to some of the planet's most idyllic islands—and sunsets that will make your heart melt.
With every island comes a new resort, so the that private island oasis you've been dreaming up is ripe for the taking. Long time favorite, Soneva Fushi, is hard to beat. As the pioneer of the now oft-cited barefoot-luxury movement, you're welcomed to the island by your very own private butler (aptly-named Mr. Friday) to indulge your every whim.
Zambia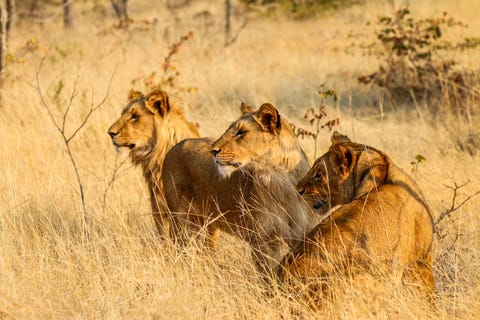 Considered by many as one of the last truly "wild" locales in Southern Africa, Zambia boasts mesmerizing wilderness teeming with one of the most diverse animal populations in the world.
For those looking to experience a part of the world that remains largely untouched by outsiders, where lions lounge in the shade of trees and elephants wander freely, Zambia is an unbeatable adventure. While the landscape remains entirely authentic, the country is home to some of the most luxurious safari lodges around, like Chinzombo, Time + Tide Chongwe Camp, Tongabezi Lodge, and more.
New Zealand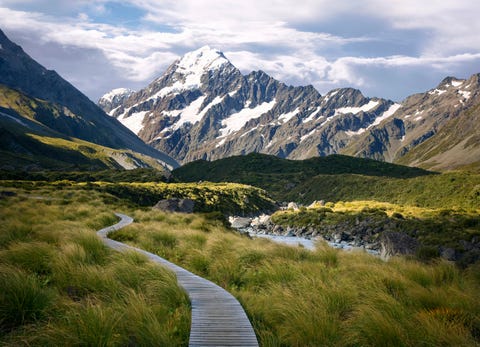 Active honeymooners, photography fanatics, and many more will absolutely love New Zealand. Here, mirror-smooth bays and sounds give way to emerald mountains, snowy peaks and rich farmland. Home to quite literally every adventure sport you can imagine (and a fair few you've probably never heard of), New Zealand is as warm and welcoming to the daring as it is to those who just want to sit back with a good glass of white (and maybe a few oysters too) and take it all in.
Explore Queenstown's chic café and restaurant neighborhood with a stay at Eichardt's Private Hotel, right in the thick of it. The Canterbury countryside is a bucolic gem, but nowhere unveils that sense of blissful solitude quite like the Ahuriri Valley. Lying in the shadow of Mount Cook beneath a canvas of wide-open skies, the area epitomises New Zealand's approach to grand adventure and the great outdoors. Walk miles in any direction without seeing a soul, fly-fish in some of the best spots to do so and stargaze as if you could reach out and touch the stars. But above all, stay at The Lindis. Opened just a month or so ago, it's already sealing its fate as one of the world's most spectacular lodges.
Iceland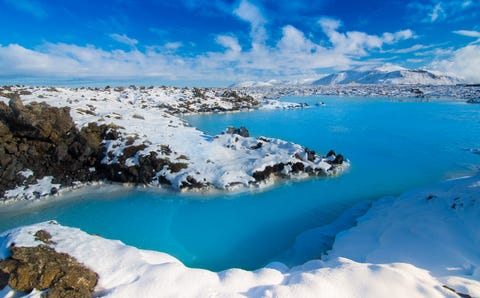 Whether you and your beloved are looking to explore exceptional New Nordic cuisine at Dill Restaurant, climb up and heli-ski down millennia-old glaciers, or soak away your troubles in skin-soothing natural hot springs—Iceland has everything you could possibly need at just a 5-hour hop from NYC.
Small but mighty, travelling through Iceland makes it easy to move between must-see sights like the famed mineral-rich waters of the Blue Lagoon, the shimmering glaciers of Vatnajökull National Park, or the trend-setting boutiques of Laugavegur in Reykjavik.
Riviera Maya, Mexico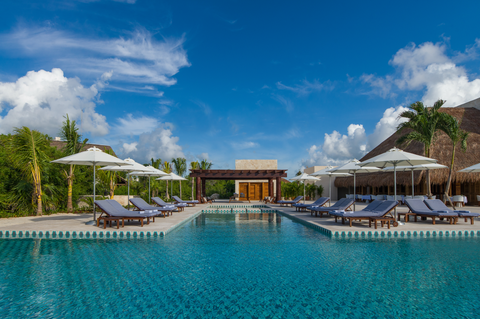 Set along pristine white sand beaches in Mexico's Yucatan Peninsula, the Riviera Maya is a classic barefoot luxury at its very best and an idyllic setting for a honeymoon. While this stunning enclave North of Tulum has been on the radar of discerning travellers for years, some notable recent openings have put the Riviera Maya firmly on the map as a chilled out, but steadfastly luxurious, destination.
Credit: Harpersbazaar