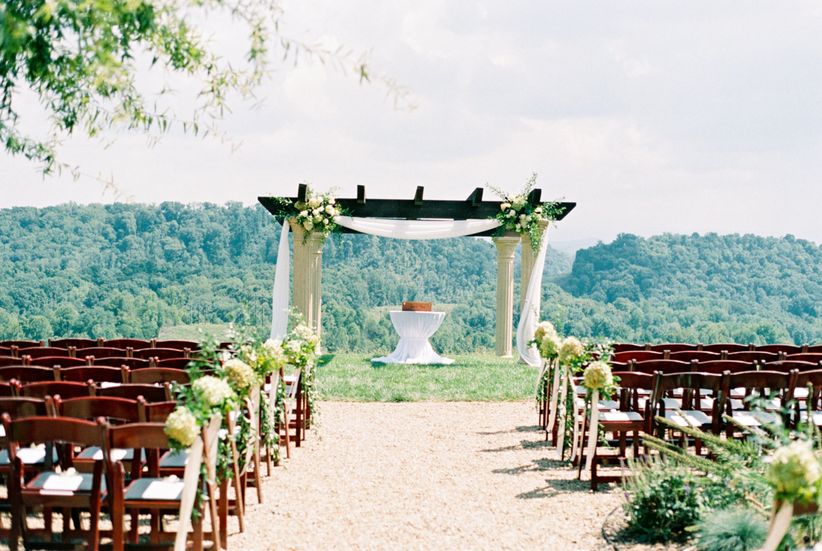 Planning an outdoor affair to celebrate your nuptials? Cover your bases with our top pieces of outdoor wedding advice!
Wind -and humidity- proof your hairstyle.
Talk to your hair stylist about any weather-related concerns you may have. He or she will likely have some great tips and suggestions based on your hair type and personal preferences. If your dream hairstyle won't hold up well in certain weather, consider trying out a more weather-proof backup style just in case. This may require a second trial, but it could be well worth it. This way, you can always make the call on the day of.
Consider a reception dress.

If you're planning an outdoor wedding in late spring or summer—particularly if it's in a warmer area of the country—you might be surprised by how hot a wedding gown starts to feel once you hit the dance floor. Consider changing into something shorter and lighter for those last couple hours. As gorgeous as that gown may be, comfort is really important.
Avoid stilettos or kitten heels.
If a significant portion of your wedding day is taking place on the grass or another soft surface, we recommend accessorizing with wedges or flats. Those heels might be gorgeous, but it's not worth sinking into the ground with every step! Need a little inspiration? Check out some of our favorite wedges and flats.
Focus on three things you love about your backup plan.
Fall in love with your Plan B! Come up with a few things you absolutely love about your indoor backup space, and remind yourself of them in case of a spotty forecast.
Use your website to keep guests up to speed.
Your wedding website is a great tool for communicating with guests any time of year, but it can be especially helpful for outdoor weddings. Include simple attire tips such as "The reception will be held on the grass—wedges and flats encouraged!" or "We suggest bringing a sweater or wrap as it can get chilly at night this time of year." You can also ask guests to refer to your website for last-minute changes due to weather.
Check the rain policy on your rental contracts.
Double-check those contracts to ensure all rental items are allowed to be set up on the wet ground or under threat of rain. If it rains in the morning and the clouds clear by wedding time, for example, you may still opt to have your wedding outdoors. You want to be sure all of your furniture, equipment, and decor can still be set up as planned.
Brainstorm a few rainy portrait ideas, just in case.
If you're prepared, rainy weather can actually make for really special, romantic photos. Not convinced? Click through these dreamy portraits and prepare to swoon.
Remember to treat your site for bugs beforehand.
We recommend having your ceremony and reception areas professionally bug-proofed a few days in advance of the wedding. Set up Citronella candles or torches for backup (this will also enhance the ambiance!)
Consider mic'ing your ceremony.
Unless you're having a pretty intimate group, it can be tricky for guests in the back rows to hear what's being said during the ceremony. This is especially true when there are no walls to provide acoustics and when you add wind or other outside noise to the mix. A simple sound system is an easy fix. Ask your venue if they offer one on-site or whether they have any rental recommendations. If you're worried about a hand-held microphone being intrusive, lavalier mics are a great way to go.
Keep your guests comfortable during the ceremony.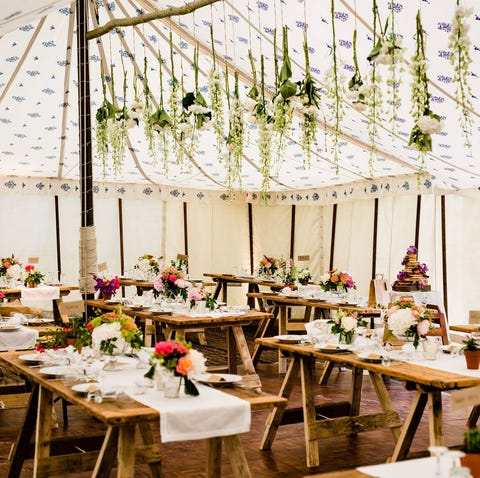 Since guests will be seated for an extended period of time during your ceremony, it's nice to protect them from any uncomfortable outdoor elements. Consider providing parasols to keep them shaded in the sunshine, hand fans or chilled water to keep them cool in the heat, or blankets or shawls to keep warm in chilly weather.
Credit: Weddingwire